Blog & Articles
WHOC | Freshman Mullan finds niche
by Tony Olivero, February 18th, 2009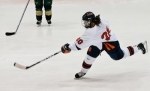 Flanagan was scouring the bench for Lisa Mullan, as he knew that the freshman would be the perfect player for this situation.

Once the horn sounded, signaling the end of the timeout, and the squad's trio returned to the ice, Mullan didn't disappoint.

"Lisa didn't hesitate, she is never one to hesitate," Flanagan said. "She went out there and played with a lot of confidence.
When Mullan took to the ice, the quiet first-year forward won a faceoff, blocked a shot and disrupted the Purple Eagles during the last minute, securing Syracuse its first-ever College Hockey America victory.

After the game, while the other three members of the Orange penalty kill with the press, Mullan quietly exited away to Syracuse's makeshift locker room, already thinking ahead to the next day's challenge.
Perhaps no scenario from this inaugural season better epitomizes Mullan than this one, because as her coach is happy to say, she is as modest as they come.
"She is a very humble kid," Flanagan said. "She doesn't care about getting press, she is a great team player, and she doesn't care if she scores a goal, as long as we win."
Mullan is very candid about her approach to the game.
"I'm OK with not being the superstar, as long as I'm contributing to the team," Mullan said. "I just get my nose dirty and get in there, I'm not afraid to do whatever it takes to win."
This year for Mullan, her aim of doing "whatever it takes to win" has meant playing a helper role for the young squad. She leads the team in assists with 12 on the year. The native of Victoria, British Columbia, has been key in power-play scenarios, as she leads the team with nine power-play points.
Senior defenseman Nikki Leone, who recently has had the luxury of teaming up with Mullan offensively in power-play situations at the point, believes that even though Mullan may not receive the same recognition of some of the other players, she may be just as vital as anyone else to the team's success.

"She is a major contributor, and her size and strength brings a lot to the game," Leone said. "Lisa sets up a lot of plays, she is one of the best players out there, because she works hard off the ice, always doing the little things."
Mullan's laid-back, nonchalant mentality on and off the ice stems from her relatively low expectations at the start of the year.
"I wasn't expecting as big of a role as I have now," Mullan said. "I was expecting to be watching a little bit more, but I'm really grateful that I have this role."
It's a role that Mullan truly cherishes, especially considering some of the situations that several of her high school teammates are in.
"I guess the mentality that I have had this year comes from the fact that a lot of my friends from back home are watching the game from the bench," Mullan said. "Just seeing all of my old teammates not contributing makes me thankful for what I have."
But despite whatever expectations Mullan might have had entering the season, she quickly had to adjust them as Flanagan has used her in every situation imaginable.
"She is one of the first ones I call on in special situations, like the five-on-three, or back in the point on the power play," Flanagan said.
And with six games remaining before the program's first College Hockey of American conference playoff appearance, Flanagan feels that in order for Mullan to truly break through, she will need to be cognizant of her own abilities.
"Maybe it's about her recognizing truly how good she can be," Flanagan said. "But for a player as modest and reserved as her, it may be harder than it appears."
Post filed under: Student